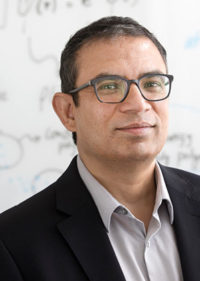 Dr. Rampi Ramprasad
Michael E. Tennenbaum Family Chair and GRA Eminent Scholar
rampi.ramprasad@mse.gatech.edu

Dr. Ramprasad joined the School of Materials Science and Engineering at Georgia Tech in February 2018. Prior to joining Georgia Tech, he was the Centennial Term Professor of Materials Science and Engineering at the University of Connecticut. He joined the University of Connecticut in Fall 2004 after a 6-year stint with Motorola's R&D laboratories at Tempe, AZ. Dr. Ramprasad received his B. Tech. in Metallurgical Engineering at the Indian Institute of Technology, Madras, India, an M.S. degree in Materials Science & Engineering at the Washington State University, and a Ph.D. degree also in Materials Science & Engineering at the University of Illinois, Urbana-Champaign. Prof. Ramprasad's area of expertise is in the development and application of computational and machine learning tools to accelerate materials discovery, as applicable to energy production, storage and utilization.

Prof. Ramprasad is a Fellow of the Materials Research Society, a Fellow of the American Physical Society, an elected Member of the Connecticut Academy of Science and Engineering, and the recipient of the Alexander von Humboldt Fellowship and the Max Planck Society Fellowship for Distinguished Scientists. He is a member of the Editorial Advisory Board of ACS Materials Letters, and is the Vice-Chair of the inaugural Gordon Research Conference on Computational Materials Science and Engineering.